All About Balanced Bites Granola Bars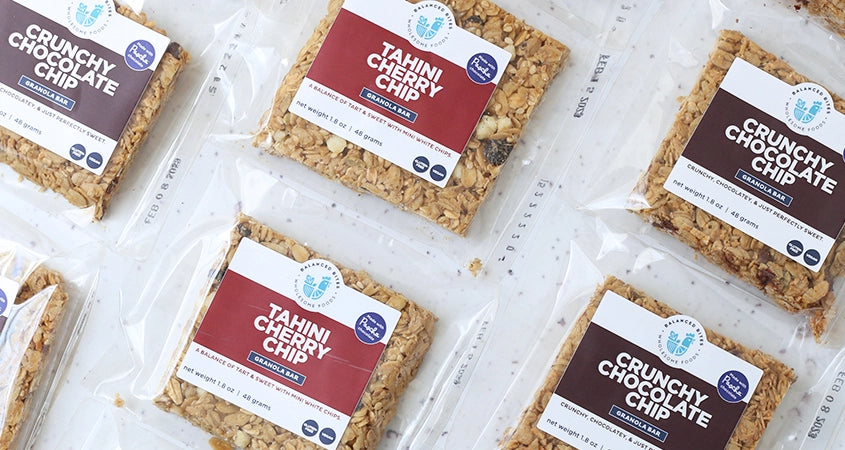 Since we launched our handmade granola back in 2020, you, our customers, have asked us if there was a chance we'd offer a portable version as bars.
Well, the time has come - Balanced Bites Granola Bars are here!
I'd love to take this opportunity to answer some questions we've been getting about our new handmade, organic, artisan granola bars to help you get to know this fantastic new product of ours.
Are the Balanced Bites Granola Bars crunchy or chewy?
Our granola bars are crunchy!
We tested a formula that would yield a more chewy bar, but the reasons we couldn't land on one were that it would: 1) require more of a raw bar (which contains a lot of moisture and is prone to spoiling without preservatives added or refrigeration), and 2) it would also require a lot more sweetener added.
We work to make our products just sweet enough to be delicious without overloading them with sugar.
We know that you value this approach of ours, so we pivoted from the attempts to keep the bars chewy and landed on what we think are some of the best crunchy flavors around.
How are the Balanced Bites Granola Bars made?
Our bars are made by-hand! Just like our bagged-granolas, which have lots of big clusters, our granola bars are baked, cut, and packaged real people right here in San Francisco.
How big are Balanced Bites Granola Bars?
Each bar is approximately 1.8 ounces - though you may find a very minor discrepancy one way or the other as they are hand-cut.
Some bars may be slightly "larger" in appearance as that tray may have been flattened out a bit more while some bars may be a touch thicker and appear "smaller" as a result.
If you've ever enjoyed Nature's Valley granola bars or Quaker Chewy bars, each of our bars weighs twice what each of those bars do.
So, it's like a 2-pack of the Nature's Valley bars or like enjoying two of the Quaker ones.
How many servings are Balanced Bites Granola Bars?
Each bar is one serving. You may find that for very small children you can break them apart into two servings, however.
Do Balanced Bites Granola Bars contain nuts?
Our Crunchy Chocolate Chip flavor contains cashew butter, while our Tahini Cherry Chip is a nut-free granola bar and contains only sesame seed butter (tahini).
Do you make a grain-free Balanced Bites Granola Bars?
Currently we make two varieties of granola bars, both are organic and gluten-free as well as vegan, but they do contain oats so they are not grain-free.
Are Balanced Bites Granola Bars available to order wholesale?
At this time, our bars are not yet available as a wholesale purchase, though our spice blends and bagged granolas are. To order wholesale from us, click here.