Diane's Guide To Summer Grilling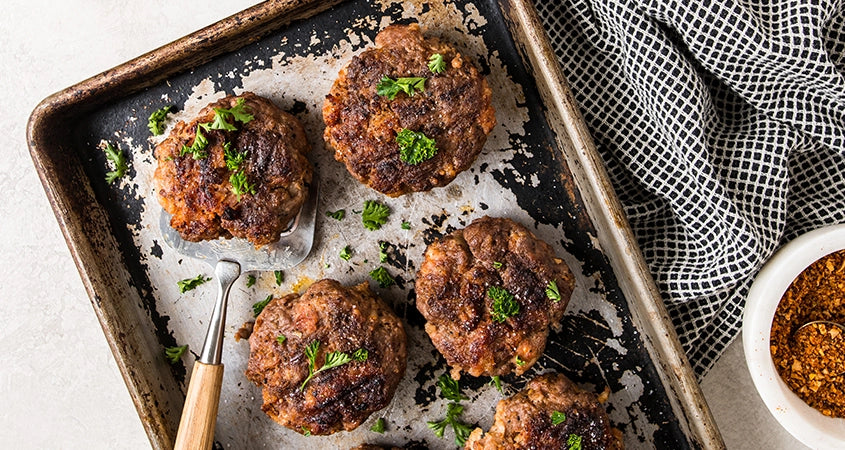 Summer grilling is a breeze when you have BB Spices on hand! Enjoy this guide with my top ten tips for easy summer grilling, plus, a few of my favorite extra recipes to serve alongside.
What's more, these recipes use our BB spices  and you'll return to these dishes again & again.

QUICK PROTEIN GRILL GUIDE
GRILLED CHICKEN
Grill for 4-5 minutes on each side, or until the internal temperature is 165ºF.
GRILLED FISH
Grill the fish for 2 to 3 minutes per side or until done to your liking. (I typically suggest 4 to 5 minutes total cooking time per inch of fish.) If you are enjoying wild, sashimi-grade tuna, you can leave it nearly rare.
BURGERS
Grill burgers for about 5 minutes per side, until cooked to 145°F in the center.
GRILLED STEAK
Cook steak for 3 to 5 minutes per side, depending on the thickness and desired level of doneness. Let the cooked steak rest for 10 minutes before slicing against the grain into strips.
GRILLED PORK CHOPS
Cook pork for 3 minutes per side, or until grill marks appear. (If pork chops are less than an inch thick, cook for 2 minutes per side.)
If using a grill pan: transfer the pan to the oven and continue cooking for 4 to 8 minutes, until the chops reach an internal temperature of 145°F.
If using a grill: move the chops to a higher rack or lower temperature area of the grill and cook until they're cooked through, about 3 to 5 minutes.
Alternatively, you can transfer the chops from the grill to an oven-safe pan and bake them to finish cooking, following the instructions above for the grill pan.

MY TOP TEN TIPS FOR EASY SUMMER MEALS
Plan ahead! Open up all of your favorite cookbooks and pick recipes in advance so you can prepare your shopping list ahead of time.
Buy chopped, shredded, riced, or noodled veggies! There's absolutely no shame in that game. Save time, effort, and cleanup!
Buy clean pre-made salad dressings and sauces to save time. But if you're looking to save money, making them with the recipes found in my books or on balancedbites. com will definitely help.
Meal prep or "mini prep" on the weekends— prep your proteins on the grill and a few sides to mix and match here and there. Some favorites to prep ahead are Marinated Onions, Spicy Citrus Slaw, and Roasted Asparagus with Lemon - you can find the recipes below!
When you bring home veggies that need prepping, wash and prep them before you put them away. This makes them easy to grab and eat or grab and cook without extra prep. For example, rinse, stem, and chop kale, then place it in an airtight container before putting it away
Keep on hand fresh salad greens like arugula (which doesn't wilt too quickly) or mixed baby greens so you can add a quick side salad to any protein you grill.
Load up your grill and get tons of protein prepped at once while enjoying time outside.
Cook one meal with a small variation for yourself or let family members leave one item on their plates and don't make a big fuss about it. For instance, leave the bun off your burger or use lettuce or a portobello mushroom bun while the rest of your family has a refined-grain bun.
Always cook more protein than you need - If 1 pound feeds your family for a night, always cook at least 2 pounds at a time and immediately put half into a storage container to keep for later.
Season simply, or separately. Either use a simple seasoning blend like TRIFECTA Blend for everyone, or split a tray of baked chicken thighs, for example, and season half with TACO & FAJITA Blend and the other half with GREEK Blend to allow for variety with zero extra effort
MY GO-TO EASY SUMMER MEALS
Umami Steak & Arugula Salad & Balsamic Vinaigrette
Perfectly Grilled Chicken Breast
SIMPLE SIDES
MY GO-TO SPICE BLENDS FOR EASY SUMMER GRILLING