PUMPKIN SPICE Organic Infused Sugar
Beyond basic, the essence of organic cinnamon and warm pumpkin pie spices permeate these sugar crystals to bring a rich flavor to your coffee, tea, and beyond.
Cane sugar*, cinnamon*, clove*, mace*, nutmeg*, ginger*, allspice*. 
*Certified Organic.
Warm and spicy; beyond cinnamon, the sharp notes of clove, mace, and ginger come through for a complex and refined flavor.

coffee, tea, oatmeal, chocolate, fruit, and pumpkin or apple pies, muffins or breads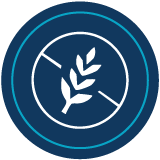 Gluten-Free
Recipes Featuring Product